Traveling and volunteering is fun but can be also exhausting. What really helps to relax after a long day full of adventures is a relaxing travel2change yoga class at the beautiful beaches of Hawaii. Relieving stress, gaining mobility and reflecting on life while watching the sun go down is truly addictive. If you haven't been hit by the "yoga bug" yet, let us convince you with some good reasons below.

First of all, and a really good reason: There is No WIFI!
But we guarantee you'll find a better connection, namely to people around you, nature, and your own breath. It is easy to feel stressed out, distracted, or overcommitted in today's society and our lifestyles. Maintaining a good work-life balance can be challenging, but yoga allows you to let go of your worries and will help you connect to the present moment.
We promise: 90 Minutes just for you
It is an opportunity to listen to your own body in a profound way. Yoga will never get boring, as there are always different things to try and ways you can push yourself. You will notice that after 90 minutes of yoga, you'll feel more relaxed, flexible, and have gained new perspectives and motivation.
Also, you will keep in shape!
Yoga, after all, is a  great workout. If you have never done yoga before, you may have the perception that it is "easy" or that you "just lay there". During one yoga class you will most likely work muscles you didn't even know existed. Still not convinced? Join us and figure it out
More than just a stretching class: Clean the Beach
We combine all our yoga classes to a positive cause. Every Saturday Morning we offer Yoga Classes combined with a beach cleanup to help take care of our aina.
Lastly, by joining our class, you also support the Foodbank
Each year over 250,000 people are served by the Hawaii Foodbank. No one should go hungry! Travel2change supports that by offering food donations, collected at the Yoga classes, to the Foodbank. By joining our yoga classes, you will help our community.
Travel2change Yoga Classes
Sign up for our Vinyasa & Hatha Style Classes. All yoga levels welcome, our classes are held outdoors and are donation based. Please visit following sites: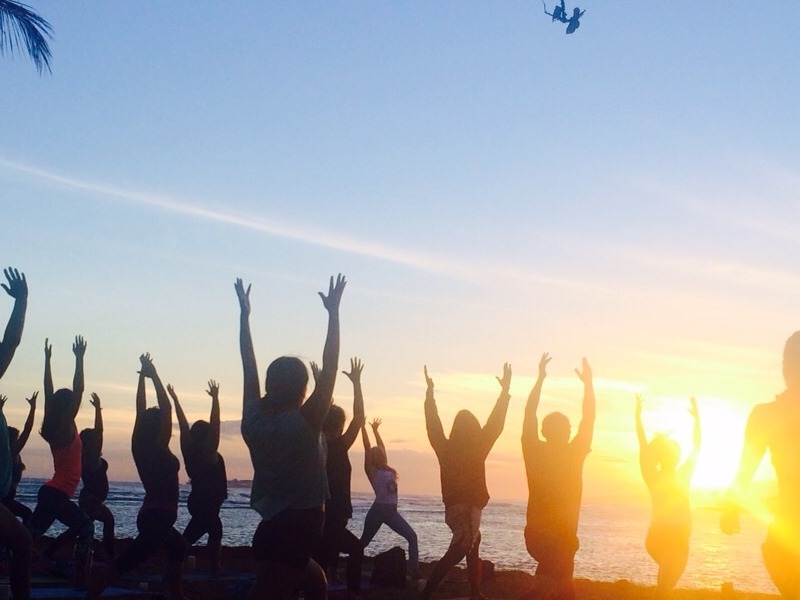 Namaste.