As this trip is coming to a rapid end, I am finding myself rushing around to eat all the local delicacies before I head back to Honolulu. Because let's be real, that's the most important thing.
First, let me introduce you to my new best friend: Breadfruit.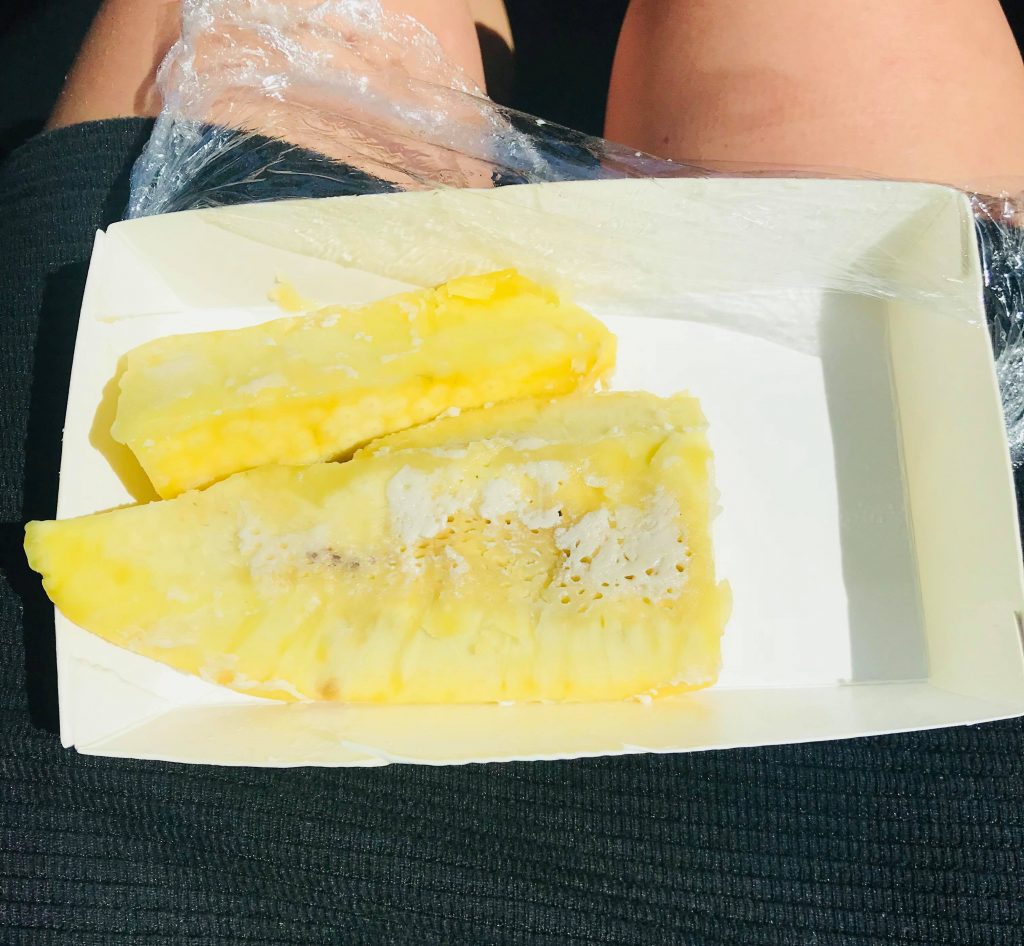 Now it may not look like much. Think: don't judge a book by its cover. The truth is, breadfruit is the bomb. If you are a sweet potato lover like myself, you'll love breadfruit. Matter of fact, had it not been for breadfruit, many Pacific Islanders would not have been able to survive before ships and airplanes become the norm to import foods. It is a super nutritious fruit and it can be prepared in many ways. My favorite? Just as seen in the picture above. It has been cooked and prepared with coconut so it is nice and sweet. It's like eating dessert, except you're not, which makes it even more awesome.
Whenever I travel, I always try to eat local foods and what the locals eat. There's a difference, you see. As with most island nations, the Marshalls necessarily imports a lot of foods. Here, they eat a lot of fish, and they also have chicken and pork. In fact, beef is a rare treat. McDonald's hasn't quite taken over the Pacific Islands just yet (thankfully!)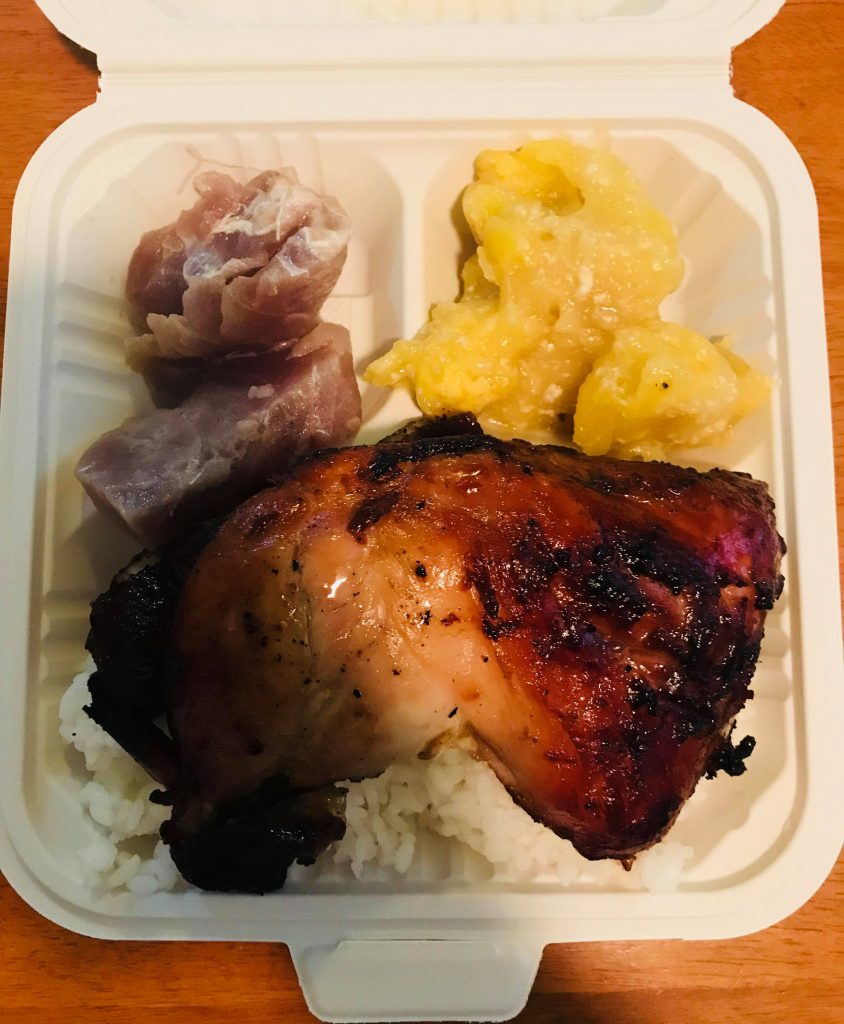 Local plate lunches are a favorite of mine. You get a little it of everything and it is so cheap. These two pictures (above and below) are typical local lunches in Majuro and they cost between $3 and $5. The one above is the more expensive one because it has fish marinated in a salty coconut juice  (suuuuper yummy). Below is chicken and a small piece of pork ribs and the yellow thing to the right is actually also breadfruit. Naturally, this is a winner for me. Every meal here pretty much includes rice, so I'll look forward to an Italian dinner when I go back home, and I should probably also make an effort to catch up on my vegetables.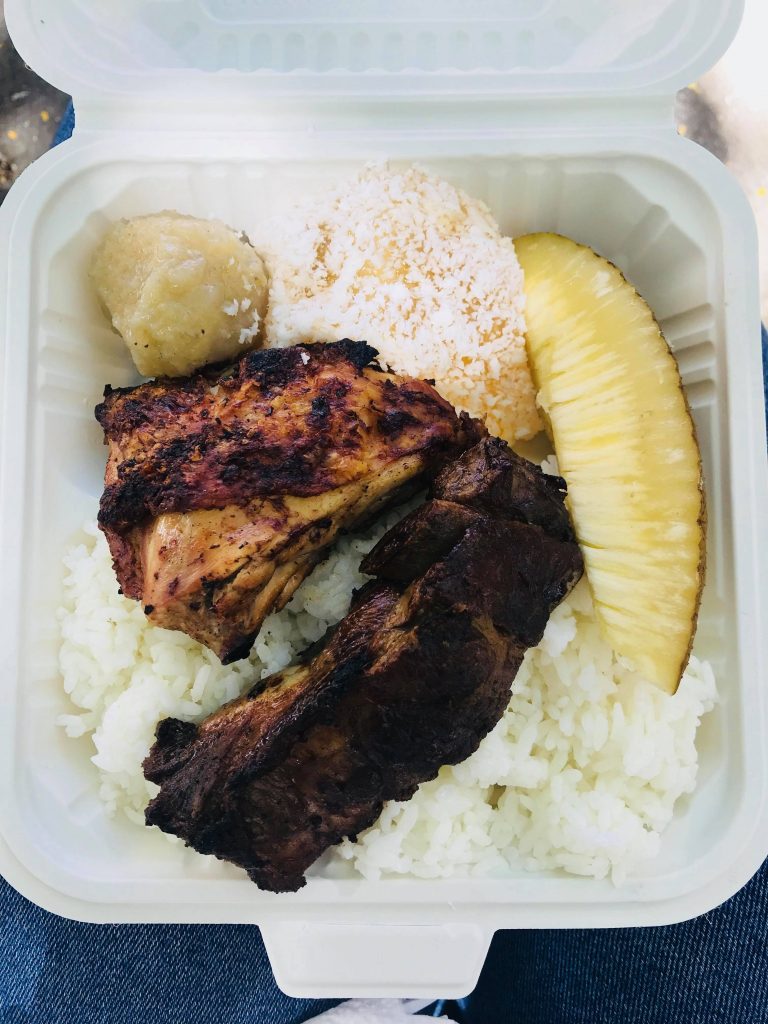 Thursday I had the pleasure of joining students and teachers at the University of the South Pacific in celebrating Manit ("Culture Day"). As with many places, food here also plays a big role in celebratory events. To prepare for the feast, I found a group of women who were making plates out of leaves for us to eat from.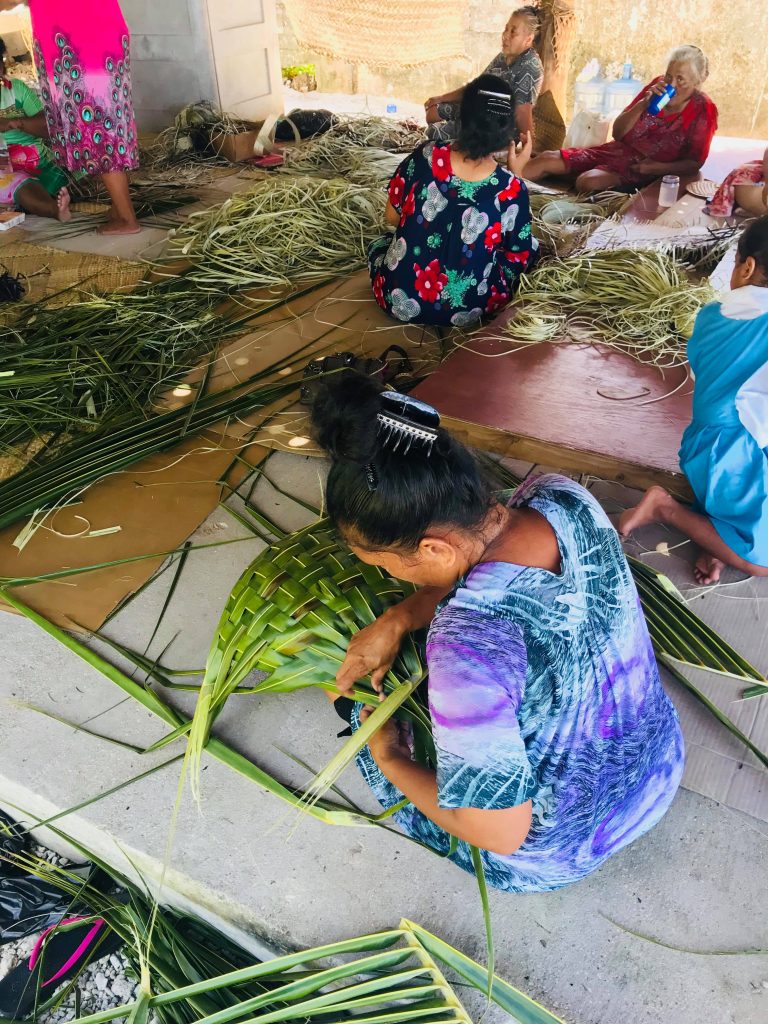 It may look fairly simple, but you go on and give it a go. Perhaps we will have lunch sometime next week!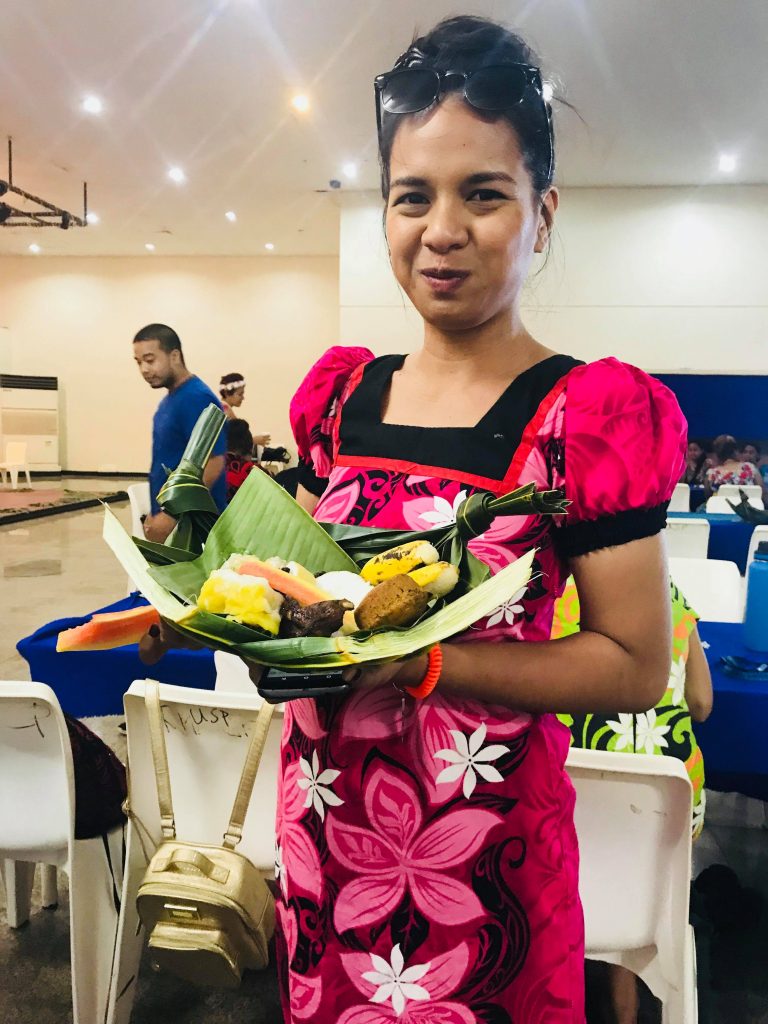 The food was beyond exceptional, and to me, the plate made it just that much more special. Chicken, fish, pork, bread fruit, rice, coconut, banana bread, bananas, papayas… Drewl… Seems healthy but quite possibly the amount I ate was not 😉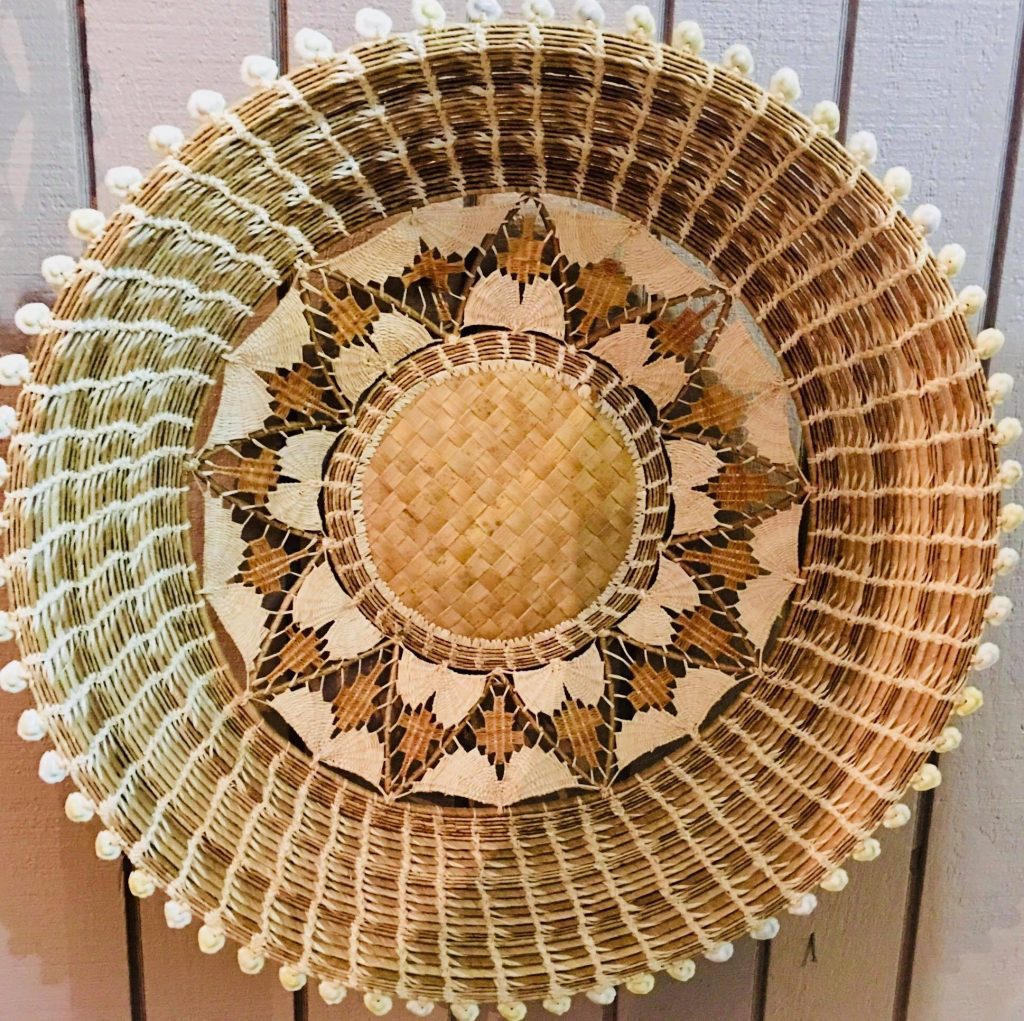 It is really a shame I have not introduced you to these amazing Marshallese crafts before now! I take full responsibility. But better late than never, right?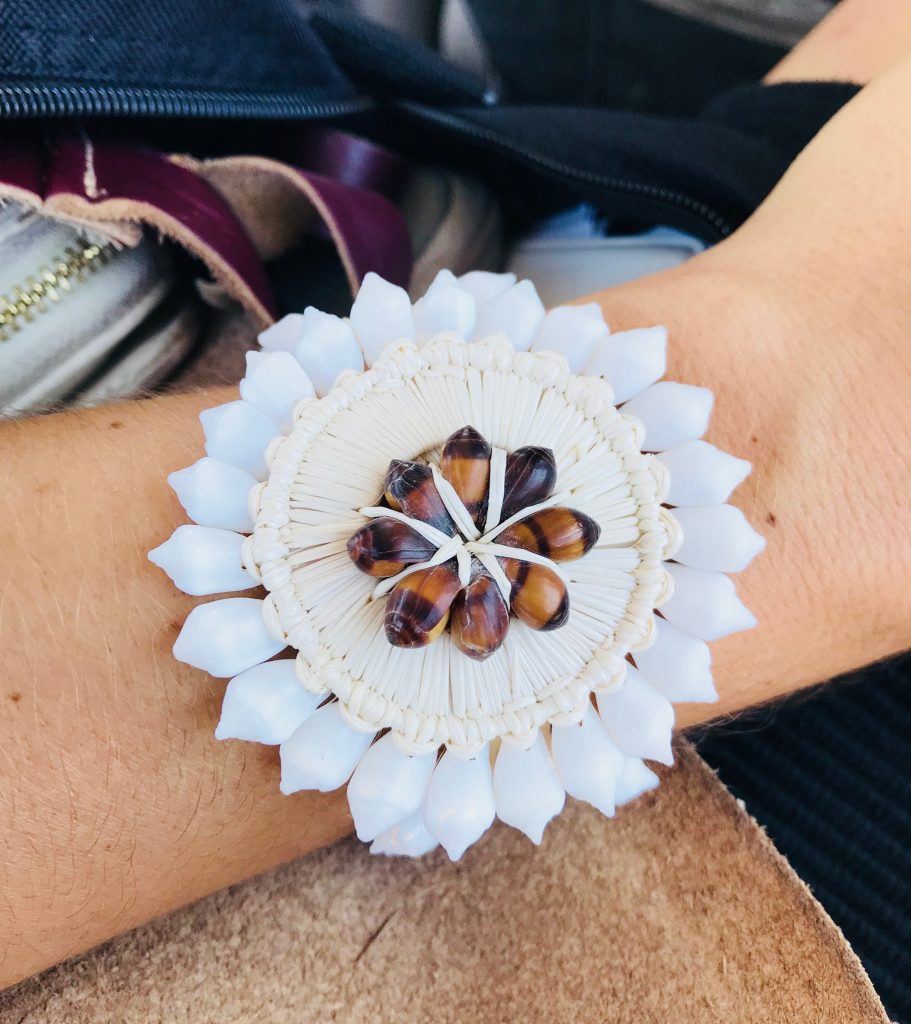 Marshallese woven craft made from coconut trees has the reputation of being the best in the Pacific, possibly the best in the world. I feel even more shameful now…
Fans, mats, ornaments, and baskets (as seen in the picture above) are made here in the Marshall Islands and have highly unique and intricate designs. Also shells are used to make beautiful jewelry. My newest favorite piece of jewelry is a beautiful shell wristband. I will possibly never take it off, it's just too darn pretty. My favorite bit is that these are not just "tourist traps." The locals actually wear this jewelry and they do so proudly. And why wouldn't they??
Now who's feeling crafty!? Or maybe just hungry….
Happy Sunday folks!
Melissa