Hawaii Pacific University Guest Blogger Student Series.
The Mana Yoga & Beach Cleanup was an enjoyable event to attend. We started off by picking up trash at Queen's Beach. Our small group of seven attendees did not find much, but we collectively filled a grocery bag full of trash.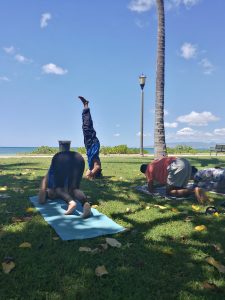 Yoga portion of the Mana Yoga & Beach Cleanup
I ended a couple of minutes early, so I could relax in the shade before we started the yoga portion of the day. While I was resting, Jonathan, the event host, was telling me a lot of history about the beach we were on and why he chose to host the event there. He explained the importance and the spirituality of the spot we were at.
Once we completed our beach cleanup, we started with the yoga portion of the day. Jonathan had allotted one hour for yoga. I was surprised to see him doing yoga directly on the dirt, instead of using a towel or yoga mat. Although Jonathan's set up was not the most professional, he was a very knowledgeable yoga instructor.
I had never done yoga before, but I was still able to follow along. His yoga could be followed by a wide variety of skill ranges. He started out with some beginner moves, then some more advanced, and finished with more beginner moves.
Overall it was a very enjoyable event. I only attended because the time worked best with my schedule, but I am very glad I chose to attend this event. It was a very fun way to spend a Saturday morning. I recommend that you book an event with travel2change, it is an effective way to do good and at the same time enjoy yourself.